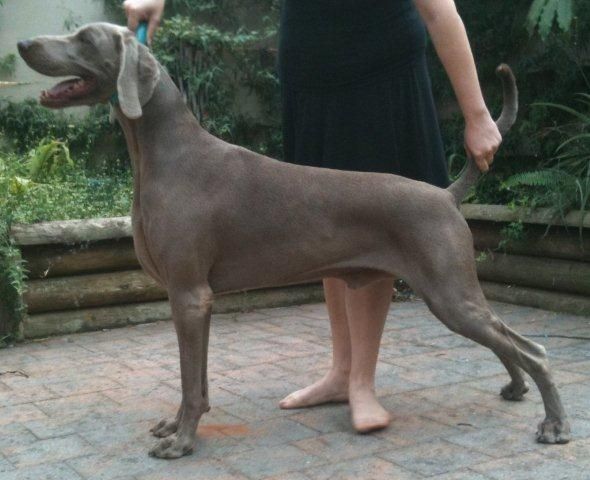 AUST CH Waldwiese Xceeding the Limits (AI) (V) LHC
"HAYABUSA"
AKA "BUSA
"
(The name Hayabusa translates directly from the Japanese as Peregrine Falcon,
the bird commonly attributed of achieving speeds of over 200 mph )


Sire:Muti BIS Australian Grand Champion Kadma Red Hot Rumours

Dam:  Dual Ch (T)Aust Ch Waldwiese Reason Tbelieve TD, TDX

DATE OF BIRTH: 26/8/2008

Hayabusa is a Longhair carrier


Weimaraner Club of SA
1st in Aust Bred Dog:
Judge Mrs I Ablion write:
"Correct head, very masculine – slightly better proportions than dog no. 4. Good topline with slight slope to croup. Slightly more angle in upper arm than dog 4. Slightly over reaches on move. Good angulation hindquarter. Bit wide initially on move behind. Very good type."
#4 is our Own Ziggy 

We thanks Carol and Amy (Kadma) for letting us use Rumour's Semen .

. He has commenced obedience and tracking and is a willing, enthusiastic dog in all that he does.

Hayabusa is Currently in Grade 5 in dog obedience
***GAINS HIS AUST CH AT 15 MTHS OLD with a Best of Breed and Junior is Group**
Haybusa also has passed his Track 2 in tracking


BUSA TAKES JUNIOR IN SHOW at Weimaraner Club SA Champ Show

Judge Wrote:
"Well balanced typical young male who moves well all round. Nicely proportioned and sound"

2009 #1 Rising star Weim in SA


HIPSCORE 2:2=4 (A)
ELBOWS 0:0 (A)
Height: 27 Inchs